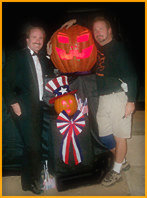 Tom and Jim Papageorge
with The Great Pumpkin and a Patriotic Bob in 2001
The Great Pumpkin has become more than a family tradition...
Started in 1964, The Great Pumpkin is a Papageorge family tradition. Two brothers, Jim and Tom, with an interest in audio and animatronic special effects decided to make a Halloween visit that kids would absolutely love.
44 years later, the display keeps growing and growing, with many family members and friends of the family pitching in to help keep The Great Pumpkin tradition alive and well.