A great place for family fun...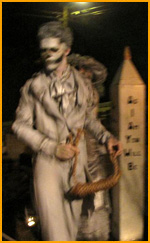 The fun consists of 3 areas that visitors walk through. The first 2 areas are about as scary as Pirates of the Caribbean at Disneyland. No more, no less.
We have spooky ghosts, grinning skeletons and lots of graves, but because this is a presentation geared toward kids, we don't have any guts or gore.
Children 5 & under might be happier to go directly to the 3rd area, where The Great Pumpkin and his nephew, Bob, greet the visitors. There are no scary images here, but there are some bright lights and loud sounds.
The whole visit takes less than 15 minutes! Bring kids of all ages and we'll see you here on Halloween Night!