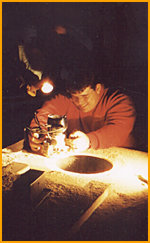 A friend of the family working long hours to help get the Great Pumpkin ready for Halloween Night
The Great Pumpkin would like to extend special thanks to...
The Extended Papageorge Family and Friends...
The wonderful neighbors on Joan Court and nearby streets who have welcomed The Great Pumpkin and countless trick-or-treaters for more than 40 years...
The Grossmont College Media Communication students who donate their time and hard work to help in setup, operations and teardown of this "for the kids" community activity...